Nothing to buy here, just some information about our new Inset Plastic Bases
Ok, once again, as with a lot of things this summer, these bases come from my personal adiction to this hobby and I was asked if I could make them available to people. So, that is what I have done with these bases. Let's start simple, I have been collecting for a LONG time. We are not going to get into details but I was well into my collection when the Bladestorm line of figures was released by Grenadier years ago. Yes, they are a little chunky and yes, not with amazing dramatic poses, but I liked them and over the years have picked up many packages. Recently, I have start trying assemble and paint them (having found a couple of really nice skirmish systems that I want to try our Fantasy Skirmish gaming with, most recently the Feudal Patrol system by "Buck" Surdu. So, out came some of the old Bladestorm figures and I found that one thing bugged me, the bases on the Bladestorm warriors made the bases extremely tall, if I mounted them on plastic stands for ease of storing.
.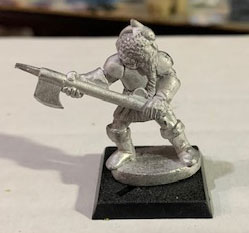 So, having recently purchased a 3D printer and have the rudimentary concept of ".stl" design, I started playing with a new base that would allow me to "hide" the old thick bases on my figures (Something, I have recently been told, is a bane of many collectors) and came up with this design.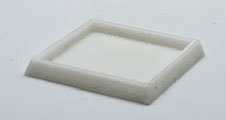 Next, I decided to test them on my old Bladestorm figures and found that they did exactly what I wanted them to do.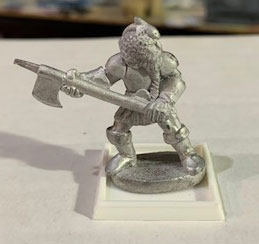 Hide the base and does so quite well with the application of a simple tool I have been using for years called "Magic Sculpt" a simple two part epoxy-resin (molded by hand)
that can be picked in local ceramic shops (and even on Amazon). Trust me on this, a 1 pound kit is enough for 100s of figures!
A little of this and a little of that, and no more visible base!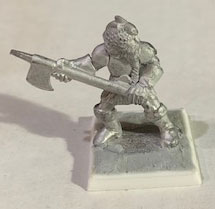 I like the way he came out so much, I did the entire pack!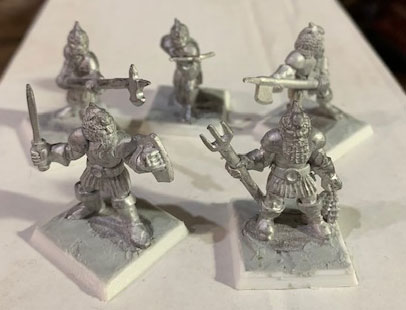 Add a little primer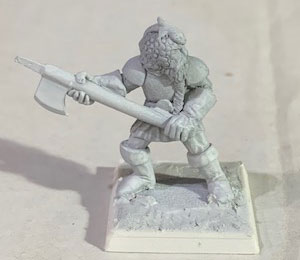 and I am off to finish another unit! Oh, and yes, I am a white primer painter, never have got the knack of brighter colors over black primer, but trust me, he is primed!
I showed the unit to some of my friends and they thought the bases worked great and thus, a new product is out there for you to enjoy! I hope I did not bore anyone with my little "How to" section on our new bases.
Thanks for your time,
Will