News:
Feb 2023
Jan 2023
Originally designed for use in the Polish countryside, these three buildings all come as two part casts, including a detachable roof.

26 July 2022
As a personal project, we have designed new bases that can be labeled to identify the unit or figure that is represented, without having to turn over the base. They currently come in four sizes: 2 x 2, 1 x 2, 1 x 1 and 1 x 1 1/4 inches. But we have the capability to producing new sizes if you are interested. Take a look! These are my personal Bramble Brigade of Impkins for Wars of Ozz from the front and the rear of the unit!

Bramble Brigade from the Front

Bramble Brigade from the Rear
11 July 2022
We have remolded and remastered the classic MKP 6mm Sci-Fi line of buildings, perfect for use with MAATAC, Battletech and other 6mm sci-fi games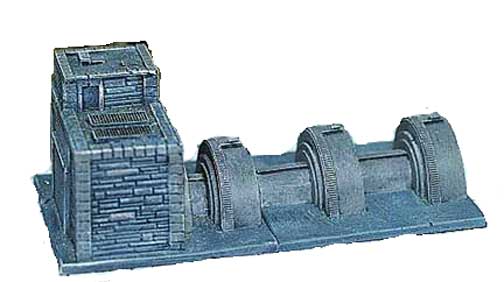 13 March 2022 -
Sometimes we just do not know what you want and we love to see the ways we can improve our lines. After one of these previous conversations, we made a couple of new masters for our latex line and today they have become available! Check out the new 2" to 1" Cobblestone intersections!
31 October 2021 -
20 Febuary 2021-
30 August 2020 -
A couple of new projects that have been on the pile for a while have final reached production.
First, new bases. These bases come from my own miniature collecting and the need I had for a base with an inset. So, here is why they were designed and by request, they are now available:
Also, Stender Studios sent me his newest project for production. 15 and 28mm Stack barrel terrain (I like to think of them as perfect objective markers).
6 August 2020 -
Just continuing to add to the collect of bits and pieces you can add to your gaming table! Today we are adding, TABLES! Enjoy and continue to check in for more and more little bits as we get the molds up and running. Tables come with two different table tops and two different types of legs and are avialable to mix and match to personalize you gaming table.

Shown below is the round table with three figures for scale: An Old Glory Priest, A Black Tree Polish WWII soldiers and a MKP Bandito.
25 July 2020 -
One of our side projects has finally come into production! A new design of flight stands for our Galactic Knights fighters and missiles. Not that this would be the only use for these stands, it is just what we are using them for!

Each base comes in two pieces, one for mounting your fighter/missile and one to use as a counter during your game.
19 July 2020 -
Oczy węża!! Ok, Yes, I am having a little fun tonight. There are more serious things to come in the next few days, including bases for Galactic Knight fighters and missiles and table for your 28mm gaming table, but until then, here is some Fun with Dice! Oczy węża, is actually Polish for "Snake Eyes" which is what is shown, Jeden is Polish for one! We have been learning and having fun with our new 3D printer and it was suggested some of our new items might be of interest to our fans out there! So, here they are, all the "Fun with Dice" we have been having this summer!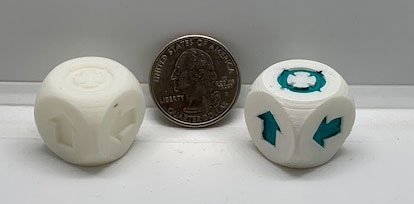 Well, a couple of month have passed, the school year is over and the kids and I have some time now, teaching online was not a much fun as it sounds. Now I have time to get all of those items I told you about out online. To start the show, let me introduce Stender Studios. Previously, he hand sculpted a number of our dark ages buildings and terrain pieces, but now that we have delved into the world of 3D printed masters, he has decided to come along with us. Being a mechanical engineer, Mr. Stender is very talented at making items in CAD programs and his pieces are coming out great as printed masters. Our first collaberation has been updating our brick walls! Here they are!

The great thing we have found about our new system of master creation is that we can easily change scales! So, our new rock walls will be available in 6, 15 and 28mm! Enjoy and look for more in the coming week
19 April 2020 -

Like we posted earlier, we have lots of new items to come throughout this event and as we get them done and painted we will start posting them for you to enjoy. For the week we have Bearskin Hide Racks in both 15mm and 28mm, all of the 15mm carts are now available in 28mm, and milk cans, all pieces from Heroes Hoard.
As for CoVid19, we are still open and casting in our shop (which happens to be right in our backyard) and shipping once a week. If you have any questions, please feel free to contact us and let us know what we can do for you.